English: New Zealand wicket-keeper Brendon McCullum, during a test match between New Zealand and Pakistan at the University Oval in Dunedin, New Zealand. (Photo credit: Wikipedia)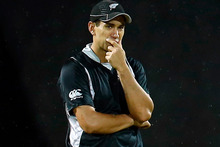 Ross Taylor will take a break from cricket after he was dumped as captain of the Black Caps, New Zealand Cricket announced today.
A disastrous week came to an unfortunate end at a media conference in Auckland, with NZC chief executive David White confirming
Brendon McCullum
will now skipper the side in all three forms.
Taylor was reportedly asked to step down before last month's two-test series in
Sri Lanka
but refused and was told the captaincy would be stripped upon the conclusion of the tour.
After Taylor, New Zealand's best batsman, scored a century to lead his side to a rare test victory on foreign soil, it was understood NZC, as an olive branch, gave Taylor the chance to remain in charge in the longest form of the game.
But, disillusioned at his treatment, Taylor has decided to step aside from cricket altogether, and will not join his teammates on the upcoming tour of South Africa.
A captaincy change has been in the works since relatively unknown coach Mike Hesson took charge of the team in July. Hesson has a close relationship with McCullum after coaching him in Otago but he has repeatedly denied the possibility of Taylor being asked
The Black Caps' squad for the tour of South Africa will be announced later this afternoon in Christchurch."
My comments to this story: Ross Taylor is our best batsman since Stephen Fleming. The talented Brendan McCullen is an under-achiever suited to the shorter versions of the game. The way they have gone about settling this problem is amateurish and an insult to Ross Taylor. He owes
NZ
cricket nothing now, and should look to his own future in county cricket or in Twenty20. Quite frankly you don't change the captaincy mid-season. The future of the coach, Hesson, should be questioned too.
http://www.nzherald.co.nz/sport/news/article.cfm?c_id=4&objectid=10852558
http://www.nzherald.co.nz/sport/news/article.cfm?c_id=4&objectid=10852558