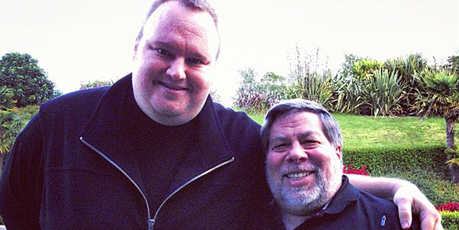 Apple co-founder Steve Wozniak has jumped to the defence of Megaupload founder Kim Dotcom and says the controversial businessman is lucky to be living in New Zealand.
Mr Wozniak says the US government has shown "how poorly thought out" its attempt to extradite Dotcom is because it needed to "dream up" charges against him.
"Prosecutors are attempting to take advantage of loopholes. Too bad for the US government that Dotcom lives in New Zealand, which is much better on human rights," Mr Wozniak said in an interview with news website CNET.
Little was known about his thoughts about Dotcom when the Megaupload founder last week posted a photo of the pair meeting in New Zealand.
Dotcom is fighting an attempt by the US to extradite him on allegations of piracy using his file-sharing website.
Megaupload was shut down in January and some of Dotcom's property was seized when his house was raided.
Mr Wozniak has spoken in support of Dotcom and given a scathing assessment of the US investigation.
"When crimes occur through the mail you don't shut the post office down," he said in an email interview with CNET.
"When governments dream up charges of 'racketeering' for a typical IT guy who is just operating a file-sharing service, or accuse him of mail fraud because he said he had removed files [to alleged infringing content] when he'd just removed the links to them, this is evidence of how poorly thought out the attempt to extradite him is."
Dotcom remains under home detention at his Coatesville mansion before his extradition hearing in August.
He hasn't let the physical restrictions hold him back online.
Dotcom has used his newly-created Twitter account to invite guests to swim in his pool and announce a new music discovery and sharing service called Megabox.
Tech website Mashable says Dotcom's Megabox, which would compete with similar platforms such as Spotify, is intended to let artists keep almost 90 per cent of the profits made from their music.
Dotcom's new Twitter account,
@KimDotcom
, has already attracted 40,317 followers.
Acknowledgements:
APNZ