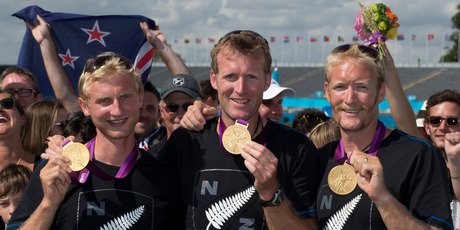 New

Zealand

rowing

gold

medallists

Hamish

Bond,

Mahe

Drysdale

and

Eric

Murray.

Photo

/

Brett

Phibbs
Double gold, double delight … New Zealand's rowers last night turned the Olympic course at Eton Dorney into their personal playground.
Coxless pair Eric Murray and Hamish Bond smashed through their final frontier, winning the only prize to have eluded them in the past four years.
Forty minutes later, single sculler Mahe Drysdale captured the gold that illness so cruelly denied him at Beijing four years ago.
Drysdale's gold is New Zealand's 20th Olympic rowing medal – including nine golds – and the third at this regatta, after Nathan Cohen and Joseph Sullivan's victory in the double scull 24 hours earlier.
While Murray and Bond streeted the field, maintaining their 100 per cent winning record over the four-year Olympic cycle, Drysdale had to work desperately hard to hold off his fiercest rival, Czech Republic sculler Ondrej Synek.
Across the finish line, he raised his arm, slapped the water and clutched his head.
Emotion washed over the 33-year-old and he collapsed on the pontoon. It was four minutes before he was able to get to his feet.
Read more:
http://www.nzherald.co.nz/sport/news/article.cfm?c_id=4&objectid=10824514
http://www.stuff.co.nz/sport/olympics/rowing/7411177/Bond-and-Murray-Drysdale-win-gold
Video
In Rome in 1960 New Zealand's first golden hour occurred. Peter Snell, arguably one of New Zealand's greatest Olympians, won his first 800m gold (the second four years later with the 1500m gold as well) and followed by Murray Halberg's 5,000m gold lesss then an hour later. Last night it was Eric Murray and Hamish Bond in the Men's Pair, and less than an hour later Mahe Drysdale scored his gold in the Men's Single Scull - Kiwis remember the terrible sight four years ago in Beijing as an extremely ill Mahi struggled to win bronze. Great karma for a great sculler who has also won five World Championships in his career, and now Olympic Champion. A cycling bronze finished the evening off for the NZ Olympic team.
For just a while NZ will be ahead of both the Aussies and Brits, who have larger teams than New Zealand. We anticipate more medals during the next week. Nick Willis, the successor to the legendary 1500m Olympic Champions and gold medal winners, Jack Lovelock, 1936; Peter Snell, 1964; and John Walker, 1974; won his heat yesterday, and was silver medalist in Beijing, 2008.
Superstar Valerie Vili, defending Women's Shotput champion from Beijing, is the favourite for London 2012. There are always unexpected successes that can increase New Zealand's medal total. We all wait in anticipation!
Petes Place