Image by rob.masefield via Flickr
Image via Wikipedia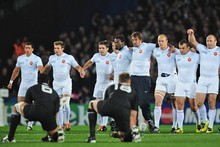 Expand
The British media have ridiculed the decision of the IRB to fine the French rugby team $5000 for advancing on the All Blacks haka before Sunday's Rugby World Cup final.
Eric Janssen of
The Telegraph
labelled the French fine
"an absolute lot of nonsense".
"France made a fantastic gesture, and the All Blacks, I have no doubt, would have respected that acceptance of the challenge. It's been a great tournament - despite some controversies - and it certainly did not deserve this shameful ending. Pull your heads in, IRB. What a petty, pedantic response by the blazers."
The website ran a poll posing the question: should teams be allowed to challenge the haka? The overwhelming majority (over 90 per cent) supported the idea of a challenge.
The Guardian
's Barney Ronay
has described the haka
as a "hot potato", while criticising the IRB's decision to fine the French for encroaching past Eden Park's halfway mark.
"It seems that the haka, the world's most famous sporting war dance, is still an unapproachably hot potato: albeit the most tediously touchy of hot potatoes, a potato warmed by its own portable fug of cultural confrontationalism," Ronay wrote.
He suggested the IRB might view the only appropriate response to the haka as standing "looking vaguely interested, like bum-bagged tourists on a stroll around the Maori museum rugby experience".
"Fining France simply for walking along in a line, while opposite them their opponents are miming acts of terrible corporeal violence, just makes the whole spectacle look a little silly."
The Daily Mail
called the punishment
a "final insult" to the French, while
former All Black Alan "AJ" Whetton told
the
Sydney Morning Herald
it was another sign of the IRB getting "a wee bit too pedantic".
"There's something called protocol but sometimes there's also something called common sense," he told the newspaper. "What bearing did it have on the game? Absolutely nothing. It was bloody irrelevant. There was no harm done in my point of view and I thought it added a bit of spice, really."
- Herald Online